Hello!
We are Efthymios and Neofytos, two Londoners born and raised in Athens and Cyprus. We launched The Athenian at the end of 2014, as a small street food venture offering freshly made souvlaki prepared in the healthiest, most authentic way possible.

What's souvlaki?

Ask any Greek and they will be sure to tell you that souvlaki is our nation's favourite food to eat on the go. A quick, healthier alternative to fast food, it consists of a pita wrap with a variety of freshly grilled fillings and served in a way we love. The name souvlaki comes from a medieval word, meaning 'little skewer', after the cooking method.
Secret Recipes
The inspiration for our own pursuit of cooking began on the remote mountain village of Vamos on the island of Crete. It was here that a local lady, shared her own secret recipes with us. We spent the evening cooking with her, with vegetables from the garden. We were so blown away that we wanted to recreate that unforgettable experience.
Greece was going through a difficult period at the time. We wanted to help put the country on a positive light and prove that Greece and its people are full of ideas and creativity. Up to that point Greek cuisine was being somewhat misrepresented outside of Greece. We were often disappointed by out-dated, unappetising dishes. There was even confusion of dishes from neighbouring cuisines to Greek ones and our search for lovingly-made, mouth-watering souvlaki was nearly impossible.
That's why we created The Athenian. To introduce something new, while reshaping the image of Greek cuisine. We want to make souvlaki part of every day diet, something that everyone can recognise and enjoy regularly. By paying us a visit you will find souvlaki the way it is meant to be made: simple, fresh and authentically Greek.  
We care about people: here and in Greece
By creating our own little business, we help support people back home in Greece by sourcing our products from small, independent producers and farmers as well as local businesses here in the UK. We aim to keep our carbon footprint low where we can, without ever compromising on the authentic Mediterranean experience we want to bring to our customers.

We are proud to say we can trace back all of our carefully selected ingredients.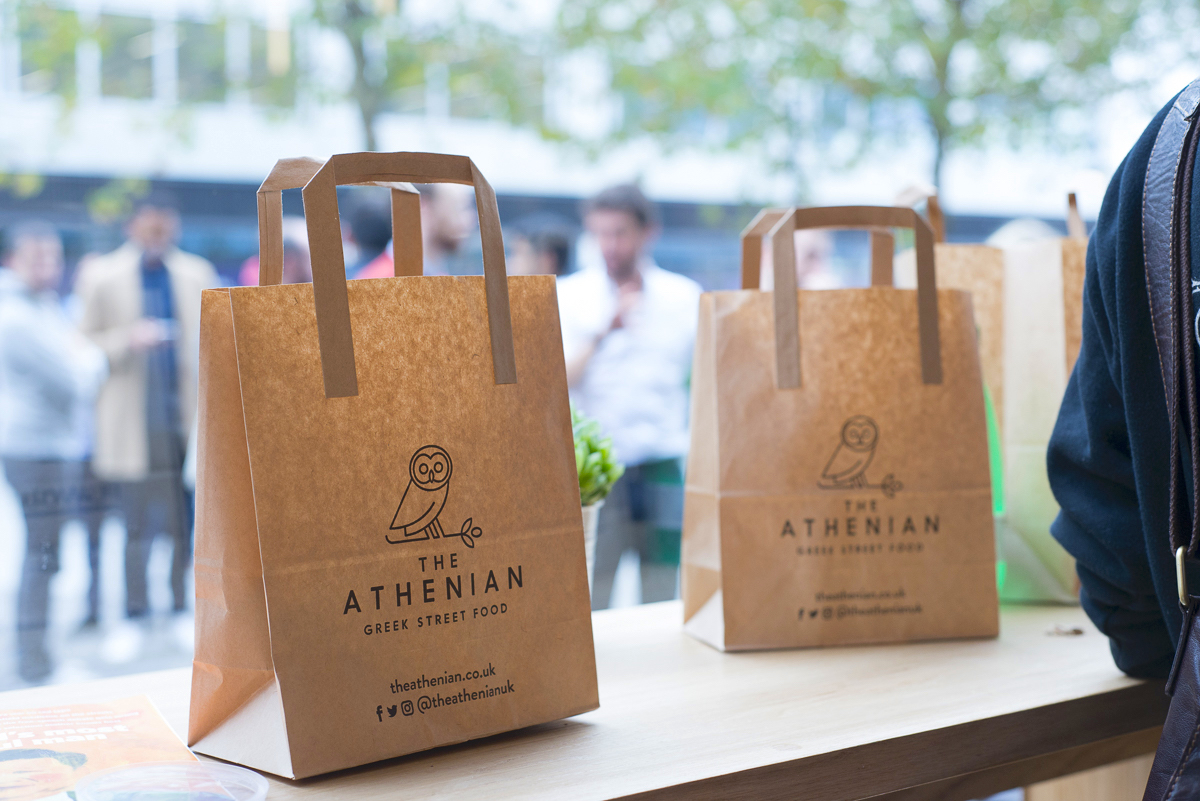 Zero Plastic
Our food comes in packaging that's made from plants, never from plastic. Our disposable packaging is made from renewable and lower carbon materials and it's biodegradable. We stopped stocking and serving plastic straws, as they are one of the most commonly found pollutants in our oceans.
Plastic is recyclable, but we think that this is not good enough. Biodegradable packaging is a sustainable alternative to recyclable types of packaging, as it simply disintegrates, having a smaller impact on our planet and the wildlife.
Our cooking oil gets collected and our selected partners turn it into Bio-Diesel. We only use LED bulbs and prioritise partnerships with operators who supply 100% renewable energy.
Food waste
One of the biggest problems in the restaurant industry is food waste. When wasted, food has a harmful effect on the environment - it's responsible for 8% of the global greenhouse gas emissions which we all know is bad news for the planet! That's why we partnered with too good to go.
The Little Owl

In Greek mythology, a little owl represented or accompanied Athena, the virgin goddess of wisdom. The city of Athens took its name from Athena and her little owl was printed on its ancient currency. It is still used today on our one Euro coin.